Introduction to the iFR
®

Modality
instant wave-free Ratio
™
Overview

Wave Free Period1
The iFR

®

 Modality
Volcano's proprietary instantaneous, trans-lesional pressure ratio measured during the wave-free period.
Assesses lesion significance in about five heartbeats without the need for hyperemic agents.
instant wave-Free Ratio

™

:
The Instantaneous pressure ratio, across a stenosis during the wave-free period, when resistance is naturally constant and minimized in the cardiac cycle.
Physiology Fundamentals
Change in Pressure = Change in Flow x Constant Resistance
△P = △Q x R
Fundamental Equation for relating Pressure and Flow Derived from Poiseuille's Law for Fluid Dynamics
When Resistance is constant, changes in Pressure are proportional to changes in Flow
The FFR modality uses hyperemic agents to achieve a state of constant resistance.
The iFR modality uses a period of the cardiac cycle when resistance is naturally constant.
Wave Free Period

Pressure, Resistance, and Intensity During the Wave Free Period2
Benefits of the Wave Free Period
Noise from compression and suction waves is minimized.
Resistance is constant so △P is proportional to △Q (flow).
Velocity is higher so better power to discriminate.
Case Example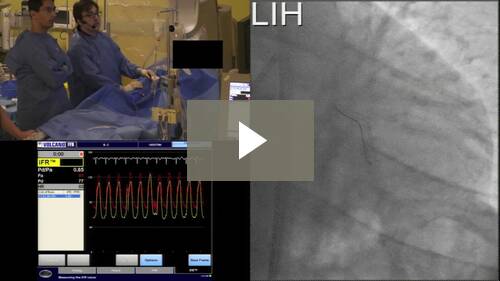 iFR
®

Modality with Verrata

™

Pressure Guide Wire in Multi-Vessel Disease
Case example from Imperial College, London - February 2014
Downloads
iFR Scout™ Overview
The iFR

®

Modality Fundamentals
Hybrid iFR

®

/ FFR Approach and Cut Points
ADVISE II Data Sheet
---
Need More Information?

Fill out this form and we will get right back to you.


1. Escaned J. ADVISE II: A Prospective, Registry Evaluation of iFR vs. FFR. TCT 2013. Lecture conducted from San Francisco, CA.


2. Sen S, et al. Development and validation of a new adenosine-independent index of stenosis severity from coronary wave-intensity analysis: results of the ADVISE (ADenosine Vasodilator Independent Stenosis Evaluation) study. J Am Coll Cardiol. 2012 Apr 10;59(15):1392-402.